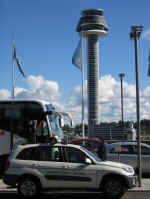 The control tower at Arlanda Airport, north of Stockholm. Viewed from the departure entrance between Terminal 5 and Sky City. It's worth mentioning that opposite to my own experience in our neighborhood, almost all flag and lamp poles are straight in this picture! Isn't that amazing?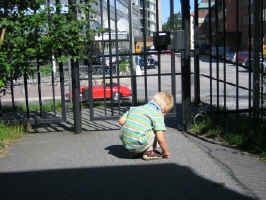 It's not so special to watch Henrik playing with ants. He does that everyday. The special is that he is playing with ants inside the property of the Russian Federation Embassy in Stockholm. And the Porsche 356 is special too, of coarse!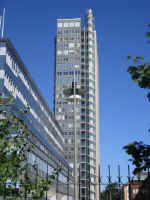 The Daily News (Dagens Nyheter) building in Stockholm.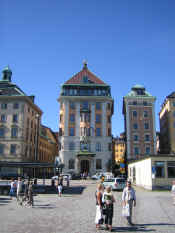 A building, along the eastern docks in The Old Town of Stockholm.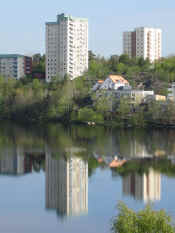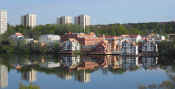 An Early Morning In May. Views across The Järla Lake.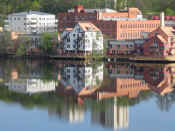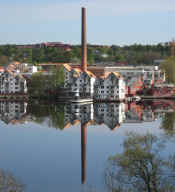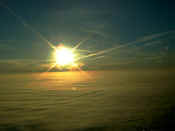 Öresund Bridge and Turning Torso in the southernmost part of Sweden
Probably taken from an airliner short after takeoff from Copenhagen by a to me unknown Photographer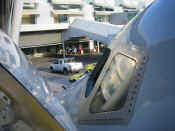 Fly Nordic MD-82 (DC-9-82)
SE-RBE (cn 49152/1089) at Stockholm-Arlanda Airport, Terminal 2, gate 62, as usual.
Photographed by Margarita, when departing Stockholm for Copenhagen.
Take a place in the jump seat and enjoy a touch down at Arlanda in a short movie.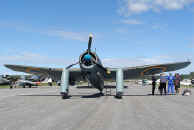 Swedish Airforce 1941-1955
SAAB B17 A
SE-BYH (cn 17239)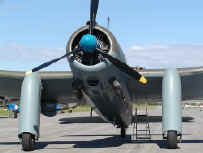 Note the co-pilot in lower left corner of the picture.
Tullinge Airshow 2004.
The airport ESCN was in use from 1946 to its closure in October 2004. Personally I don't understand why it is necessary to claim this particular land for an extensive housing project, when there are so much unexploited land in this, probably the least populated country in Europe, with an average of 20 inhabitants per sq km.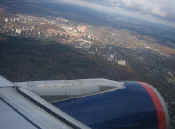 Aeroflot Airbus A319-111
VP-BDO (cn 2091)
Igor Stravinski
right after take off from
Sheremetyevo, Moscow
Photographed by Margarita 061015, when departing Moscow for Stockholm.
Watch this flight SU219 land at
Arlanda 01 L the same afternoon
in a short movie.